Introduction
Hilal Foods is one of the Pakistan's leading FMCG company in value-added food segment with state-of-the-art manufacturing facilities, and quality brands nurtured through innovation and excellence. The company successfully exports to more than 20 countries around the world. Since its inception in 1957, Hilal Foods is manufacturing high quality products with prime focus on continuous improvement and Research and Development.

Through innovation and excellence, we aspire to become the preferred choice in high quality branded food products by growing our consumer base globally and achieve Rs 20 billion by 2023 through promoting a winning culture that makes us an Employer of Choice.

To provide countless Reasons to Smile to everyone, everywhere, everyday.

Hilal Group is guided by a set of core values, we believe in, and stand for; which guide our actions, decisions and are the core drivers of our corporate belief system.
People – We are a team with a winning & entrepreneurial mindset
Integrity – We have zero tolerance on breach of integrity as this is the human quality most necessary for business success
Excellence through Innovation – This is our passion, built in our DNA & one of our key success factors
Collaboration – Key driver to promote teamwork, trust, respect, honesty and an open culture
Customer & Consumer – Our ultimate goal


Board of Directors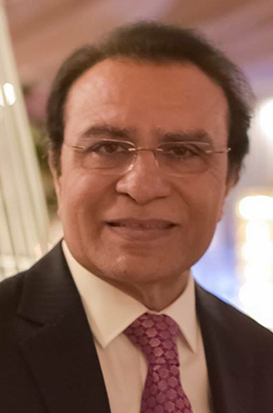 HSE Policy
Hilal Foods Pvt. Ltd. is one of the leading Confectionary and Food manufacturing companies in Pakistan, considers the management of Environmental, Health, Safety and employees wellbeing to be one of our high corporate priorities. We reaffirm this commitment and pledge our continued efforts to protect the environment and to assure health and safety of our employees, contractors, vendors, visitors and other stakeholders through development, implementation, maintenance, audit and continual improvement of our Health, Safety and Environment (HSE) Management System in line with the local and federal regulations as well as the international standards to which the organization subscribes.
Our goal is to manufacture quality food products while remain conscious to;
– Optimum use of available resources

– Effective management of our ecological footprints

– Assuring injury and ill-health free working environment

– Strong focus on Health & Safety and Wellbeing of our employees and other interested parties.
Hilal Foods Pvt. Ltd. key Health, Safety and Environmental commitments are;
Sustainability:

– Manufacturing of quality food products while remain conscious to optimum use of available resources.

– Demonstrate resource conservation by installation of highly efficient machinery and adaptation of Best Available Techniques (BATS).

– Monitor resource consumption and wastages.

– Minimize waste by adaption of 5R (Reduce, Reuse, Recycle, Restore and Replenish) techniques.

Legal Compliance:

– HFPL is highly committed to assure compliance to all local, state and federal HSE laws, guidelines and regulations and other requirements to which the organization subscribes.

Employees:

– Educating, training and motivating employees to conduct their activities in a safe and responsible manner.

– Strive for an injury free workplace through high employee involvement, consultation and participation (where practicable) as a part of a robust health and safety program.

– Strive to continuously improve HSE performance by utilizing best practices, technological options, control measures and trainings.

Corporate:

– Top management is responsible for providing adequate resource to ensure effective implementation of HSE management system and development of corporate HSE objectives.

– Site leadership will review HSE performance on periodic basis and provide their valuable inputs for system improvement.

– Line management will have the responsibility for allocating adequate resources to ensure support and implementation of departmental HSE objectives.

– Strive to provide a safe and healthy workplace, striving to prevent injuries and illnesses, promoting employees wellbeing and encouraging respect for environment.

– Ensure that employees have the awareness, skills and knowledge to implement this policy.
We believe, with the firm commitment and compliance of policy by the employees, as a team, we can and will do much better for the improvement of Health, Safety and the Environment.
Research and Development
At Hilal, we do everything possible to please our customers with food products of the finest quality. Our research methodology relies on in depth local and international market surveys. Every batch of food products is checked by our expert staff through the most modern equipment and superior technology. It ensures consistent quality and taste throughout the world. Extensive laboratory tests are conducted to ensure that the products are safe for consumption. Hilal makes sure to create consumer appeal through a unique blend of flavors, colors and packaging. Through market surveys, we see the response to sample products and also gain insights on the changing market trends, which in turn helps us meet society's present and future
needs. Our operative excellence, market knowledge and customer relationships give us an edge over our competitors.
QA Policy
Hilal Foods Pvt. Ltd., one of the leading Confectionery and Food manufacturing companies of Pakistan, considers Food Safety as fundamental to our ongoing business. Our goal is to provide high quality, halal, innovative and safe food every time, everywhere.
We strongly believe, "Service to Humanity is Service to Almighty" and we bring this Principle to life by inculcating Quality as habit, which has the ultimate objective to ensure halal, safe and nutritious food for all and reasons to smile.
We are committed to providing high quality products and services which conform to specification, with class act food safety and which are in full compliance with all legal and regulatory requirements in the markets in which these are sold.
Good Food Safety Practices

We implement global standards and principles through programs, such as Good Hygienic Practices (GHP), Good Manufacturing Practices (GMP), Allergen Management System (AMS),the Hazard Analysis and Critical Control Points (HACCP) and, the Hazard Analysis Risk Based Preventive Controls (HARPC). We will regularly measure for compliance against these standards and implement performance objectives to assure our consumers are safe to eat while meeting their quality expectations

Accountability

We hold ourselves accountable to fully implement our Food Safety and Halal Management System and continuously seek ways to improve the food safety system in our entire Supply Chain mainly through effective training and development programs. We hold our vendors and distributors as valuable partners and accountable for fully implementing Food Safety requirements.

Transparency

We are committed to transparency and sharing information on food safety issues across our business and with regulators, customers, vendors, suppliers and consumers.

Continual Improvement

Our food safety performance will be considered at every management meeting and our top management will review this policy annually (at least) to ensure that it continues to reflect the aims and aspirations of the company and it is kept up to date with legislative requirements

Continual Improvement

Our food safety performance will be considered at every management meeting and our top management will review this policy annually (at least) to ensure that it continues to reflect the aims and aspirations of the company and it is kept up to date with legislative requirements